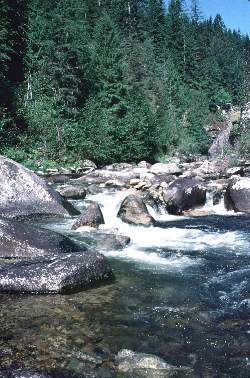 Upstream view of Fish Creek, a tributary of the Lochsa River in Idaho.
Welcome to VirtualRiver. Here you will find two interactive exercises designed to help you learn about river processes like discharge, flooding, and flood frequency. Each activity requires you to make careful observations and measurements, do simple calculations, and answer questions about your work. A "Certificate of Completion" will be available to you at the end of each activity.
IMPORTANT: Computer and Operating System Requirements
If this is your first experience with hydrology (the science of the Earth's surface water), complete the exercises in order. Most students can complete an exercise in about 1 to 1.5 hours.